*Note: The "Settings" page has been updated to include additional options to customize notifications and alerts, and has been renamed "Preferences."
User preferences are customizable on a per-user basis. All patients, providers, and staff members can adjust their own by clicking "Preferences" in the right-side menu in Mend. Providers and staff members can also access the shortcut Alert Management Tool by tapping their avatar or user image at the top right of the screen.
Depending on your user role and how your organization is set up, you may see a different combination of settings described below, and you may have access to edit preferences for other users in your organization.
Note: Toggle buttons on the right side of the screen may be tapped to turn the associated setting on or off. If the circle inside the toggle button is on the right, the setting is ON. If the icon is gray and the circle is on the left, the setting is OFF.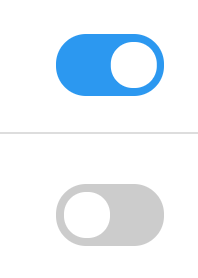 Notifications
Notifications are the standard emails, SMS text messages, and/or phone calls that patients, staff, and providers receive when their attention is needed by your healthcare organization. This includes appointment reminders, links to complete forms, etc.
The following section describes what each notification setting is, which types of users have access, and why the setting is used in Mend.
General Notification Settings
What: Notification Language
Who: All Users
Why: This drop-down will allow you to change the language of your text and email notifications. The options are currently English, Arabic, Chinese, French, Haitian Creole, Nepali, Portuguese, and Spanish.
Note: As of May 2021, the language selected here will also determine the language of all content on the Mend portal for patient users only.
What: Time-Zone
Who: All Users
Why: This drop-down list allows you to select which time zone is listed in the appointment notifications sent to you by email and SMS text message. Please note that all content in your Mend portal, including your upcoming appointments and the appointment booking process, will match the time zone to which your device is set unless otherwise specified on the screen. If you think there is a mis-match, please click "Need Help" to start a live chat with our support team, and we'd be happy to help you locate and resolve any discrepancy.
What: Auto-Refresh
Who: All Users
Why: By default, all pages in Mend auto-refresh at specific intervals to make sure the content you are seeing is always up to date. For ADA compliance, we allow users to disable this setting, however we strongly recommend that all users keep Auto Refreshing Modules toggled to ON when possible.
Notifications
What: Send Notifications By Email
Who: All Users
Why: This setting determines whether notifications are delivered to the email address we have on file for you. We recommend that all users keep this notification toggled to ON to receive notifications by email.
What: Send Notifications By Voice
Who: All Users
Why: If applicable, toggling this setting to ON will allow you to receive voice call notifications.
Note: This setting requires additional configuration in your organization's setup. To allow voice notifications, please coordinate with your Org Admin and Mend Customer Success Manager to make sure the appropriate Org Settings are in place.
What: Enable provider appointment reminders
Who: Providers
Why: When this setting is toggled to ON, you will receive a copy of every appointment notification sent to your patients where you are listed as the provider.
Note
: This setting requires additional configuration in your organization's setup. To allow provider appointment reminders, please coordinate with your Org Admin and Mend Customer Success Manager to make sure the appropriate Org Settings are in place.
What: Only send SMS notifications during business hours
Who: All Users
Why: This setting determines whether SMS text notifications are sent after hours or during regular business hours only. Each healthcare organization can set their own business hours in Mend, so if you are not sure, please contact them directly.
Note: This setting is based on the "Operating Hours," which Org Admins may configure in Org Settings.
Alerts
Alerts allow providers and staff to passively monitor the Mend Dashboard using customizable visual and auditory cues. Depending on how your organization is configured, providers and staff may choose to be alerted for the following events:
A patient is waiting in the transfer queue
An assessment has been submitted
A patient has connected to a video visit
An appointment modification has been requested
Note: All alerts are automatically suppressed when you are in a video session.
Note: Internet Explorer 11 and Safari on MacOS are not compatible with Mend alerts.
To customize alerts, first make sure the "Allow Alerts" toggle is in the "ON" position.

For each event type, providers and staff have the option to enable desktop notifications, visible tab alerts, and audio alerts. You may also test your selected alerts configuration using the "Test" button.
Alert Types
Desktop Notifications
Enabling desktop notifications will provide a heads-up alert in the corner of your screen whenever the associated event occurs, even if you are not currently logged in to Mend.
This setting requires additional permissions granted to your web browser. When you toggle it ON, make sure to select "Allow" in the pop-up window.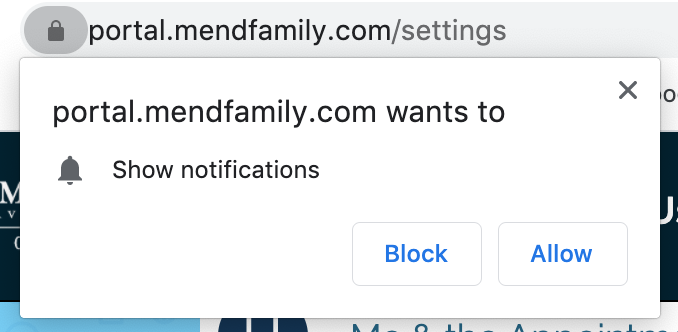 Note: Desktop notifications are not currently permitted on iPhone or iPad.
Visible Tab Alerts
If you are working in another browser tab, this alert type will show a (!) on the Mend tab when the associated event occurs.. Visible tab notifications require you to be logged in to Mend.
Audio Alerts
Audio alerts will send a brief tone to your device's default sound output when the specified event occurs, and again at your specified frequency.
Alert Schedule
At the bottom of the page, you may set a schedule for to allow alerts. If you choose to only allow alerts on weekdays from 8:00 am to 5:00 pm, for example, you will not receive alerts for events that occur outside of this window.
You may also start or pause alerts at any time by tapping your name in the upper right corner of the Mend screen.