Video Visit Features & Functions
This article addresses the following features and functions available to patients in a Mend Video Visit:
If you are looking for assistance joining a video visit, please review the Connecting to a Video Visit article.
Basic Video Visit Functions
End Call

The End Call icon will disconnect you from the Video Visit.
You may re-join the visit any time until the visit has been checked out.
You may also disconnect by returning to the Dashboard or by closing your app or browser window.
Mute Microphone

The Mute Microphone icon will silence the audio coming from your video feed.
Disable Camera

The Disable Camera icon will pause your video feed by temporarily turning off your camera.
Settings

The Settings icon contains the following options:
Background Blur (Beta)

Blur the background of your video feed with this toggle in video visit Settings: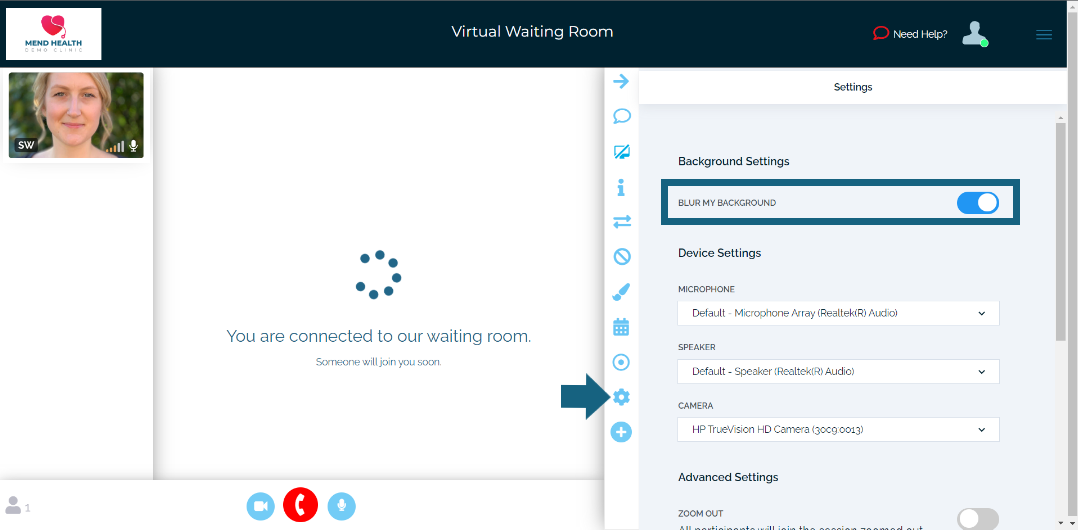 Mend will remember your selection and keep background blur enabled/disabled for your next visit.

Note:

Background Blur is a beta feature currently only available for users with Chrome 94+ on Windows, macOS, and Android. Background Blur is not available on other browsers or on Chrome on iOS devices. Updates for Edge and other Chromium-based browsers will be coming in the future.

Camera

Switch between cameras connected to your device, such as the front and back-facing cameras, or an external webcam.

Microphone

Switch between microphone inputs connected to your device, such as the internal microphone and a USB or bluetooth headset.

Speaker

Switch between audio outputs connected to your device, such as the built-in speakers, external speakers, bluetooth earbuds, or wired headphones.

HD Video

Opt to connect with the default 640x480 resolution or in HD at a rate of 1280x720 pixels.
The HD Video setting does require additional bandwidth, so we recommend disabling it if you do not have consistently high upload speed, or if you are connecting to a large group visit.
Note: Mend will display the highest resolution each user's device is capable of producing when this setting is selected. In other words, you will only see the other person in HD if their device is capable of publishing HD video.

Standard Video

Share and view video in a standard 640x480 format.

Resource Optimization Mode

Specifically designed for devices with limited CPU, RAM, or internet connectivity, Resource Optimization Mode optimizes resource consumption for Telehealth, making it easier to connect successfully on older or less powerful devices.
Resource Optimization Mode is typically enabled by default if your healthcare organization chooses to use it by default.
Display Options
Toggle View
Desktop and laptop connections only
The toggle icon at the bottom right of the screen allows you to switch between the standard and full screen views, and between "List" and "Grid" views.
Fullscreen may be activated with either "List" or "Grid" view.
By default, Video Visits use the "List" view.

One video feed fills the center of the screen.
Your video feed is a small thumbnail in the top left corner.
If there are multiple people in the visit, additional video feeds will be displayed as thumbnails under yours. You can click on a feed to move it to the center, or you can use the "Active Speaker" feature to switch automatically.

If you are using a laptop or desktop computer, you may toggle this setting to the "Grid" view.

All video feeds are equally spaced in the center of the screen, making this an optimal view for group appointments.
Zoom & Picture-in-Picture
Desktop and laptop connections only
By default, video feeds are zoomed in to take up the full space in the center of the screen. If you'd prefer to zoom out to your provider's device dimensions, tap the diagonal arrows.
If you'd like to float the other person's video feed over another screen on your computer, tap the Picture-in-Picture icon. The video feed may then be dragged to the preferred location, and will remain on screen even if the Mend window is minimized and another program is opened.
Audio & Connection Indicators
If you are using a web browser to connect, you will see a dynamic sound and connection strength display icon in the bottom right corner of every participant's video feed, including your own.
The color of the connection indicator bars will display as green, yellow, or red to reflect the user's current connection strength.
The audio indicator will turn green when there is sound coming from that video feed.

Active Speaker
In List View for a group video visit, Active Speaker dynamically switches to show the person currently speaking.
To switch manually between users instead, tap "Active Speaker" to toggle it to the "OFF" position, then tap the video feed you'd like to see front and center.

User Video Feeds
By default, you should always see the other user in your visit if they are successfully connected. You may sometimes see the following instead:

Red "Exit" Symbol:

The

user is still connected, but they have navigated to another screen on their device (mobile only).
Green Audio Symbol:

When five or more users are connected to a group video visit, their video feed will be suspended for in mobile view to conserve bandwidth.

If Active Speaker is OFF, you can select a user's initials to bring their complete video feed to the center of your screen.

If Active Speaker is ON, this will happen automatically when each user begins speaking.

Red Crossed-Out Camera: The user has intentionally disabled their camera.
Black Screen: The user's internet quality is poor or fluctuating, so Mend has dropped their feed to "audio only" while we attempt to recover their video feed. This is intentional so you can continue the session while the issue is resolved.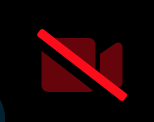 Open Panel

The arrow at the top of the icon bar will open a side panel containing the Chat and Files features.
You may close the panel by clicking the arrow again.
Interactive Features
Chat

The Chat feature may be used to exchange written messages or web links with your provider, and to receive connectivity tips from the automated Mend Bot.
Keep in Mind: If you are connected to a group video visit, all members of the group can see all messages posted in the Chat.
Keep in Mind: To chat with Mend live chat support, click "Need Help?" at the top of the page.
Files
The Files feature may be used to exchange document or image files with your provider.
Once uploaded, anyone in the visit may download the file to their computer.
Keep in Mind: If your organization has disabled file sharing or if you have joined the visit as an "anonymous user," meaning you did not log in with your date of birth or a password, you will not have access to share files.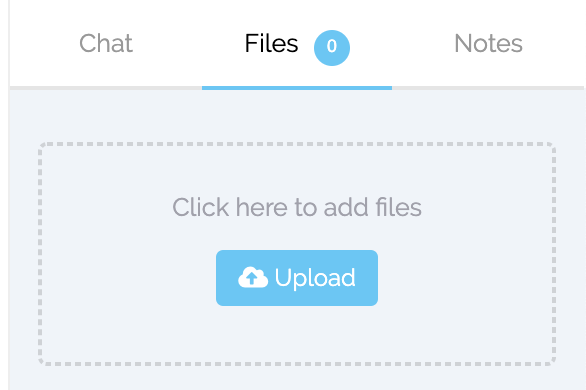 Share Screen
Your provider may share video (and/or audio) from their computer in your Video Visit.
If you are on a mobile device, your view screen may not show the entire area your provider is sharing. You may "pinch to zoom" or "touch to drag" to adjust your screen as needed.
If you are using Google Chrome or Firefox on a laptop or desktop computer, you may share your screen with your provider as well.

Sharing your screen is not available on mobile devices.

You may choose between sharing your whole screen or a specific window, and you will be reminded to close items containing PHI.
If you are using Google Chrome and choose to share another Chrome Tab, you may also choose to share the audio from your screen.

Your microphone will continue to pick up and share sound along with screen audio unless it is specifically muted.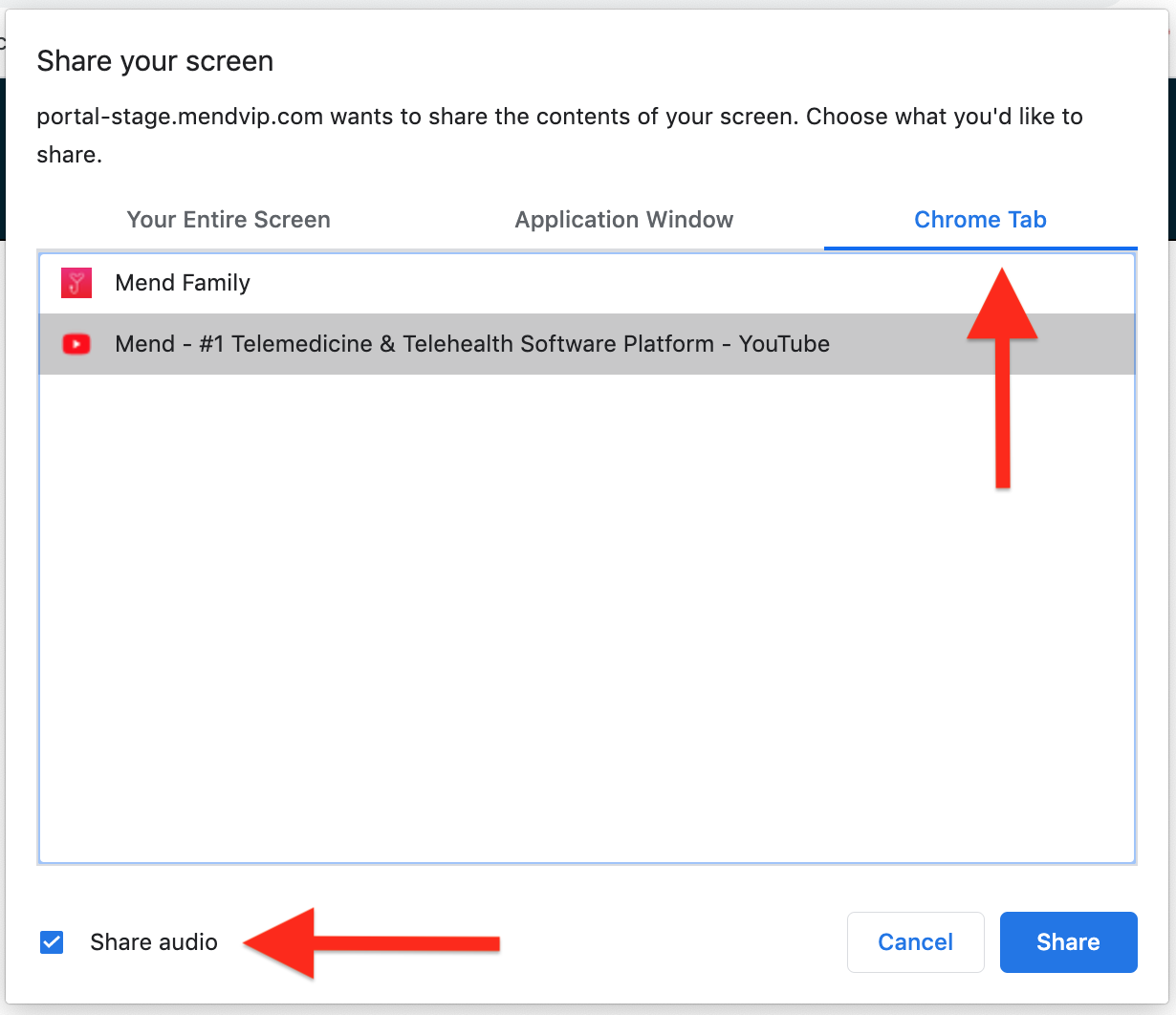 If your provider is on a mobile device, their view screen may not show the entire area you are sharing. They may use "pinch to zoom" or "touch to drag" to adjust your feed as needed.
When you share your screen, your video feed remains enabled by default.

Note: Publishing video and your screen at the same time consumes additional bandwidth, which may cause connectivity issues for some users. If you notice connection issues, you may disable the video feed once screen sharing begins by clicking the camera icon in the standard control menu at the bottom of the screen.
Canvas Mode
Your provider may initiate Canvas Mode, which allows you to interact with them using images and drawing tools.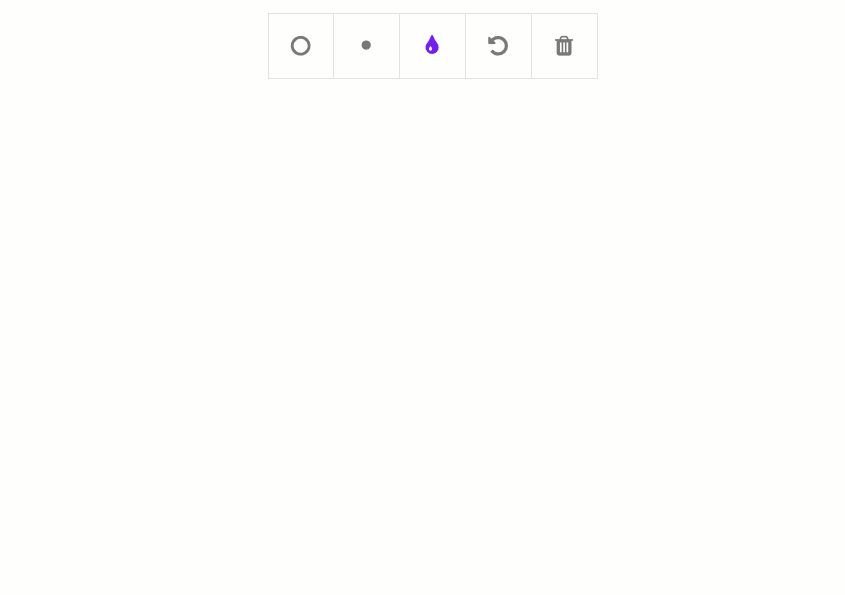 "Raise My Hand"
The "Raise My Hand" icon is only visible to patients who have been muted by a provider in a group visit.
When you tap the hand icon in the panel, it will alert your provider that you would like to be unmuted.
Mobile App-Specific Feature Limitations
If your mobile device is not compatible with Mend video visits, you may be prompted to download and use the Mend Telemedicine App to connect. If you are using the Mend Telemedicine App, the features and functions available to you in the visit will be limited to "Mute Audio," "Switch Camera," and "End Call."