Video

Session

Logging



Mend's video session logging for staff members and providers puts connectivity data at your fingertips at both a per visit and a high level perspective. Of course, the Mend team is always available to help interpret findings and provide guidance for issue resolution, should anything be identified.
Appointment Details
For all scheduled or Instant Virtual Exam Room video visits, the Appointment Details now contain connectivity logs for every user that connects to the visit. Appointment Details may be accessed from the Dashboard, Appointments page, the Patient's page or the Provider's page by pressing "Actions" and "Details." They may also be accessed from within the video visit by pressing the blue "i" icon in the feature panel.

Video Stats
Under the heading "Video Stats," you can toggle to view either Bitrate and Packet Loss graphs for the video session.
Bitrate is a measurement of data transfer that looks at the user's upload and download speed together, since both are required for a successful video connection. Essentially, this graph can tell you how strong and stable a user's connection is, and can illustrate potential issues in real-time. In general, a line that rises quickly immediately after joining and stays constant indicates a high-quality connection and a successful video visit. Lines that drop sharply indicate indicate a loss of bandwidth in the video session, which may be caused by a sudden loss of internet connectivity, but may also occur if the user navigates to another window or app on their device, re-allocating resources elsewhere.
Packet loss refers to how data transfers from one user to another over the internet. Audio and video data are sent and received in "packets" of information. A low level of packet loss is normal and expected, however spikes on this graph indicate significant losses of information and can explain a brief audio drop or video freeze. Packet loss is usually caused by poor or fluctuating internet connection, but can also be caused by traffic from other devices on the same network or even hardware issues such as a loose modem wire.
Video Error Logs
The graph and list below the Video Stats labeled Video Error Logs show any errors that occurred in the visit. You may aggregate errors by time frame, and we encourage you to investigate each individual error by pressing "Actions" and "Details" to view a description of the error and a suggestion for resolution.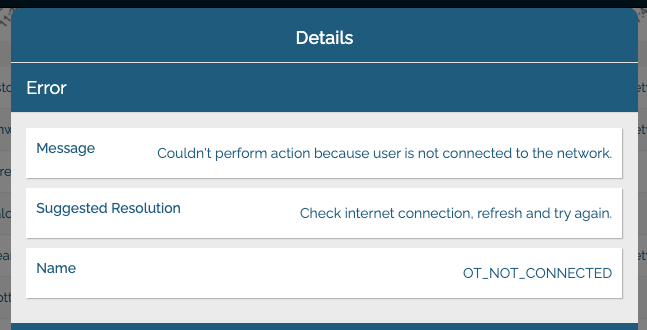 Video Error Logs - Coming Soon!
On the Dashboard, select "Video Error Logs" in the Common Actions menu to open the connectivity dashboard. All connectivity errors experienced in video sessions are logged here. This tool allows for high-level analysis to identify trends based on user, location, device, and more.
The error graph can be filtered to display errors per minute, hour, day, or month to allow you to identify periods of high frequency. You may also select specific errors to remove or add to the graph by clicking their names under the graph heading.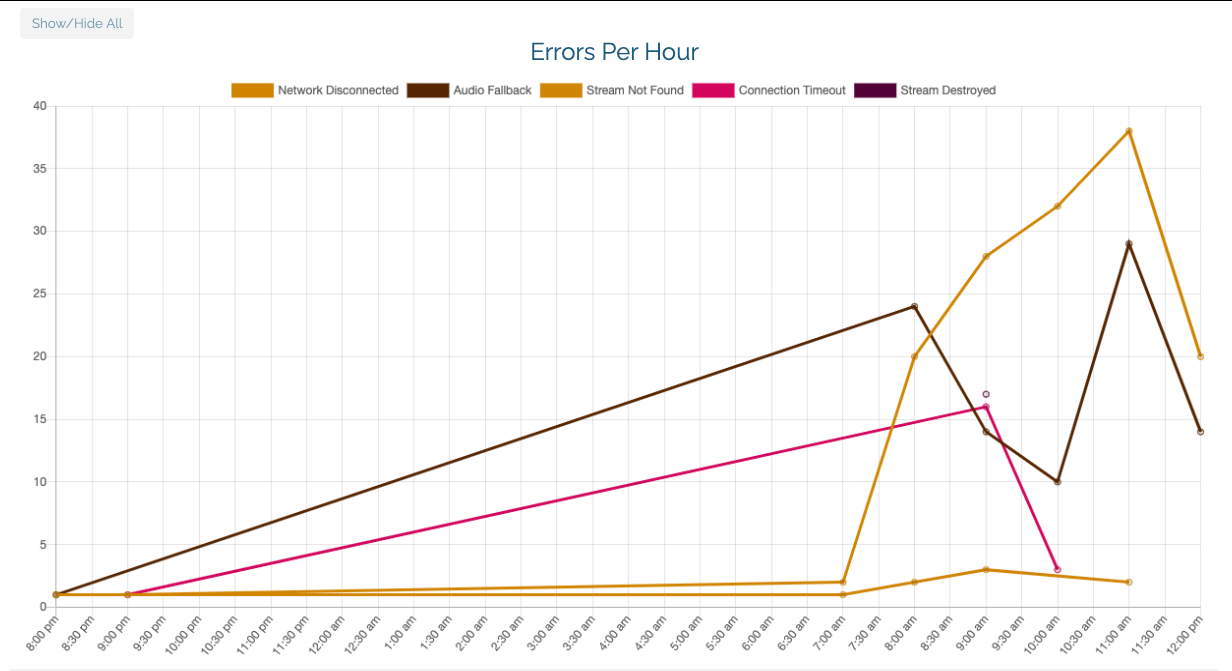 Below the graph, errors are listed for the date range specified at the top of the page. For each error, you may click "Actions" and "View Log" for a description of the issue and a suggestion to resolve, as well as additional information about the user's device, video settings, and appointment.