This article provides resolution suggestions to common technical issues that may impact provider, staff, or patient users.
For IT setup, please review the Mend Technical Recommendations and/or the Healthcare IT: Preparing for Mend Telemedicine article.
For a focused look at issues related directly to the Video Visit Connection Test, please review the Connection Test & Tips article.
Mend Troubleshooter
This article addresses the following topics:
Browser Refresh
In the majority of cases, a simple browser refresh will solve the problem.
You may refresh (sometimes called reload) your page by clicking the circular arrow next to the address bar. You may also use a keyboard shortcut to perform a refresh. If you are using a Windows computer, press the F5 key. If you are using a Mac computer, press and briefly hold ⌘ Cmd and R.
Sometimes you may need to perform a "hard refresh," which goes a step further and reloads cached information you may not be able to see on the front end. To do this on a Windows computer, press and briefly hold the Ctrl and F5 keys. On a Mac, press and briefly hold ⌘ Cmd, ⇧ Shift, and R.
Camera and Microphone
Always make sure to Allow access to the camera and microphone if prompted by a browser or the Mend Telemedicine mobile app. In a browser, just refresh and Allow access if you're not sure which selection you made.

*Note: If you are using Safari on a Mac computer, iPhone or iPad and you are NOT prompted to allow your camera, please go to "Settings" in your device, search for "Safari," and manually set the camera setting to "Allow."
*Note: If you are using Google Chrome on a Mac computer with the Catalina Operating System, and you have never used your camera in the Chrome web browser before, there is an extra step needed. With the newest versions of Mac OS, you have to enable camera permissions in system settings for each app individually. To check this, go to the Settings app and select Security & Privacy. Click the "Camera" icon on the left, and make sure Google Chrome is included in the apps allowed to access your camera.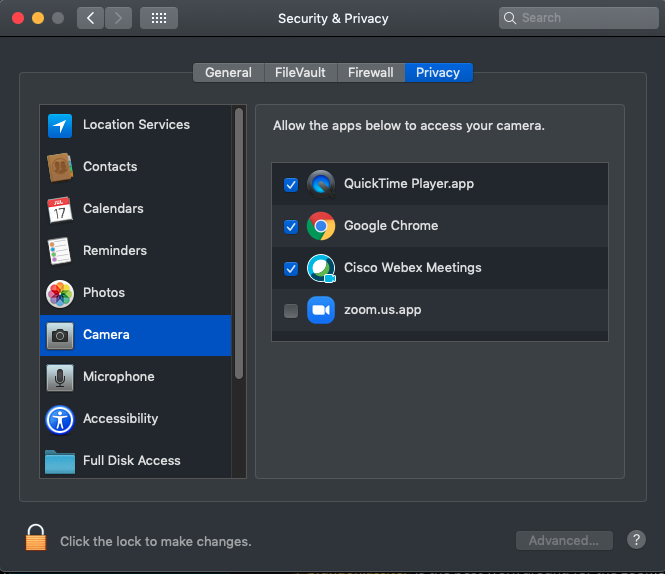 If you are connecting via web browser on mobile:
Android: Tap "Settings," then "Apps and Notifications," then scroll until you see the Google Chrome for Android app. Tap to view the Google Chrome for Android app permissions.
iPhone/iPad: Tap "Settings" and scroll until you see the Safari web browser app. Tap the app, then scroll down to the "Settings for Websites" section to tap "Camera" and "Microphone."
From here, verify that "Camera" and "Microphone" are allowed.
If you are using the Mend Telemedicine App on mobile:
Android: Tap "Settings," then "Apps and Notifications," then scroll until you see the Mend Telemedicine App. Tap to view the Mend Telemedicine app permissions.
iPhone/iPad: Tap "Settings" and scroll until you see the Mend Telemedicine App. Tap the app to view the Mend Telemedicine app permissions.
From here, verify that "Camera" and "Microphone" are allowed.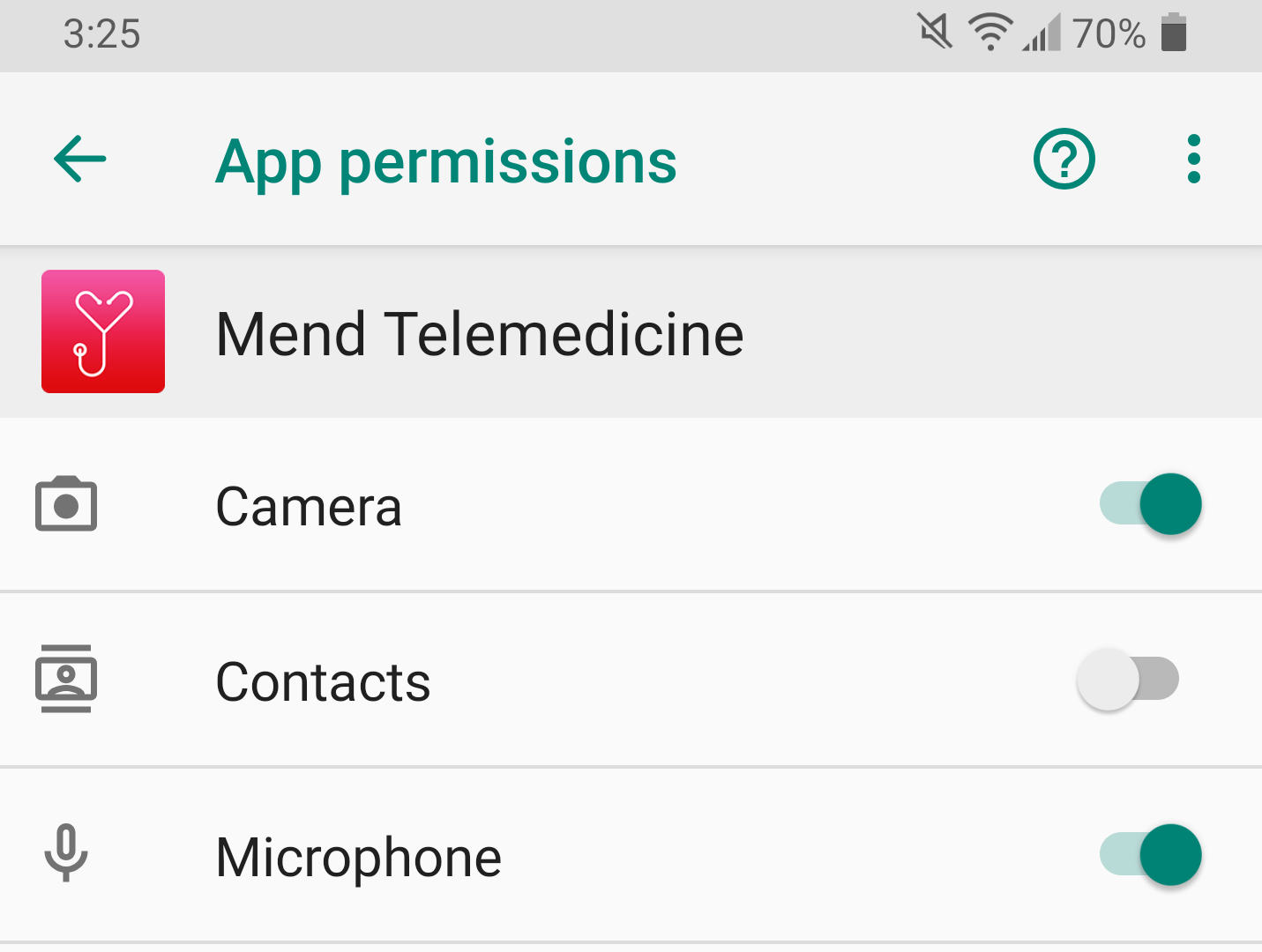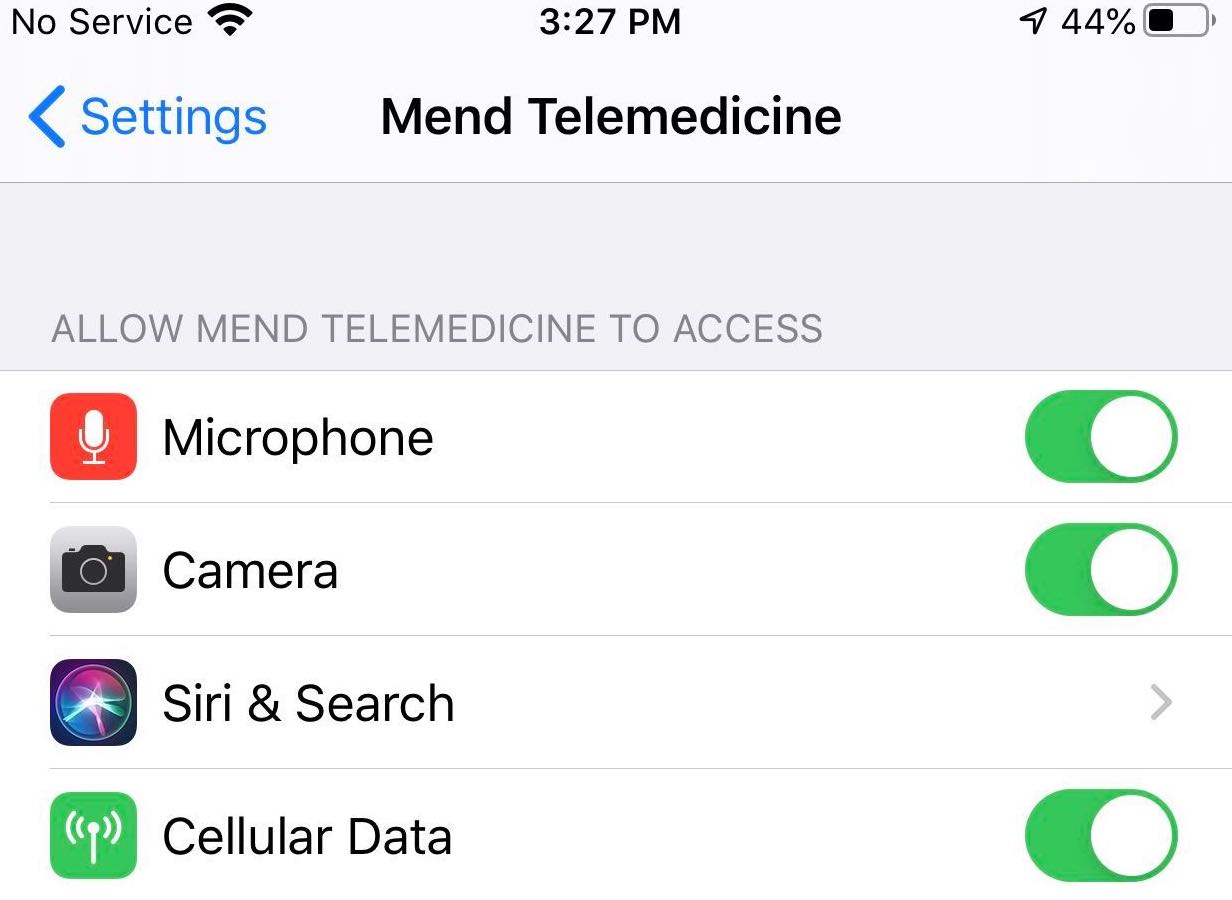 For any issues with a camera or microphone, you can navigate to https://portal.mendfamily.com/test or https://test.webrtc.org/ to test all of the settings on a machine. Please note, if Reflexive connectivity does not pass, that is acceptable.
If the wrong microphone and/or camera are working, most browsers allow you to change them (see below). Once the correct equipment is selected, make sure to refresh the browser so those settings can take effect.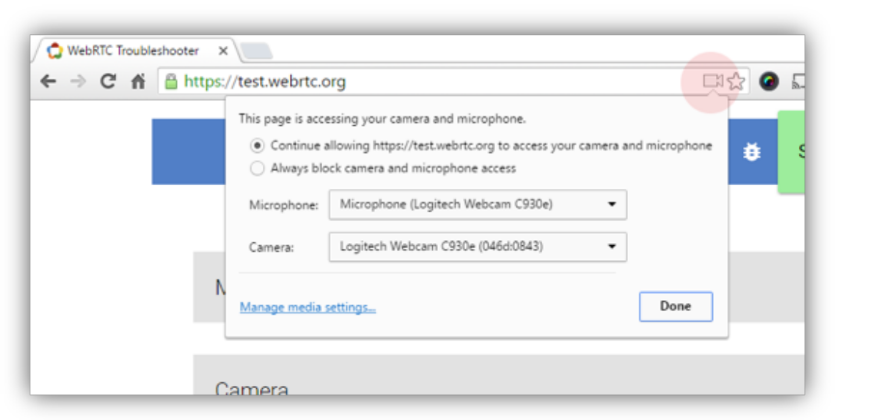 For more possible solutions to microphone and camera issues, please review our Connection Test & Tips article.
Clear Cache
In some cases, clearing the browser's cache can fix the issue. Simply press Ctrl + Shift + Delete (Windows) or ⌘ Cmd + ⇧ Shift + Delete (Mac) to clear the browser's cache of old files. If that key combination does not work, there will be an option to clear cache or history in your browser's menu/ settings.
Windows Troubleshooting
Windows provides automatic troubleshooting in many cases. For example, to troubleshoot Internet connectivity issues, right-click the Network icon in the System Tray and select Troubleshoot problems.

To troubleshoot audio problems in Windows, right-click the Sound icon in the System Tray and select Troubleshoot Sound Problems.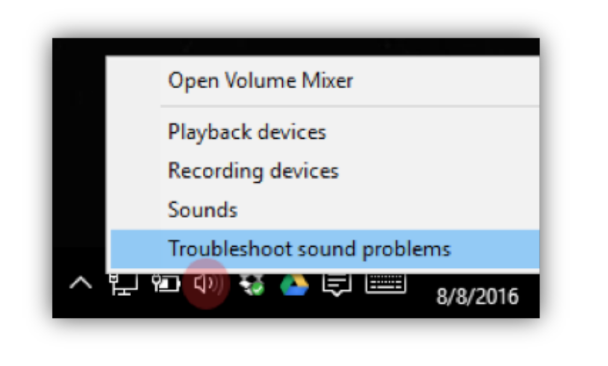 Screenshots of Errors
If you encounter an error and want to share it with Mend, you can go to https://portal.mendfamily.com and click the "Need Help?" button at the top right side of the screen. The website chat can capture a screenshot with your permission.
You can also hit the Print Screen button (Windows) or ⌘ Cmd + Control + ⇧ Shift + 3 (Mac) to copy the entire screen and then simply press Ctrl + V (Windows) or ⌘ Cmd + V (Mac) to paste it into an email to BestService@MendFamily.com.
Most mobile devices also allow you to capture the screen by clicking the Home and Power buttons at the same time. An image is stored to the camera roll that can be shared via email.
Check Machine CPU & Memory
To check the resources of your computer press Ctrl+ Alt + Delete (Windows) and review the Task Manager or search for Activity Monitor (Mac). These tools will let you know if you have enough processing power. Ideally, the CPU and memory usage should be below 50%.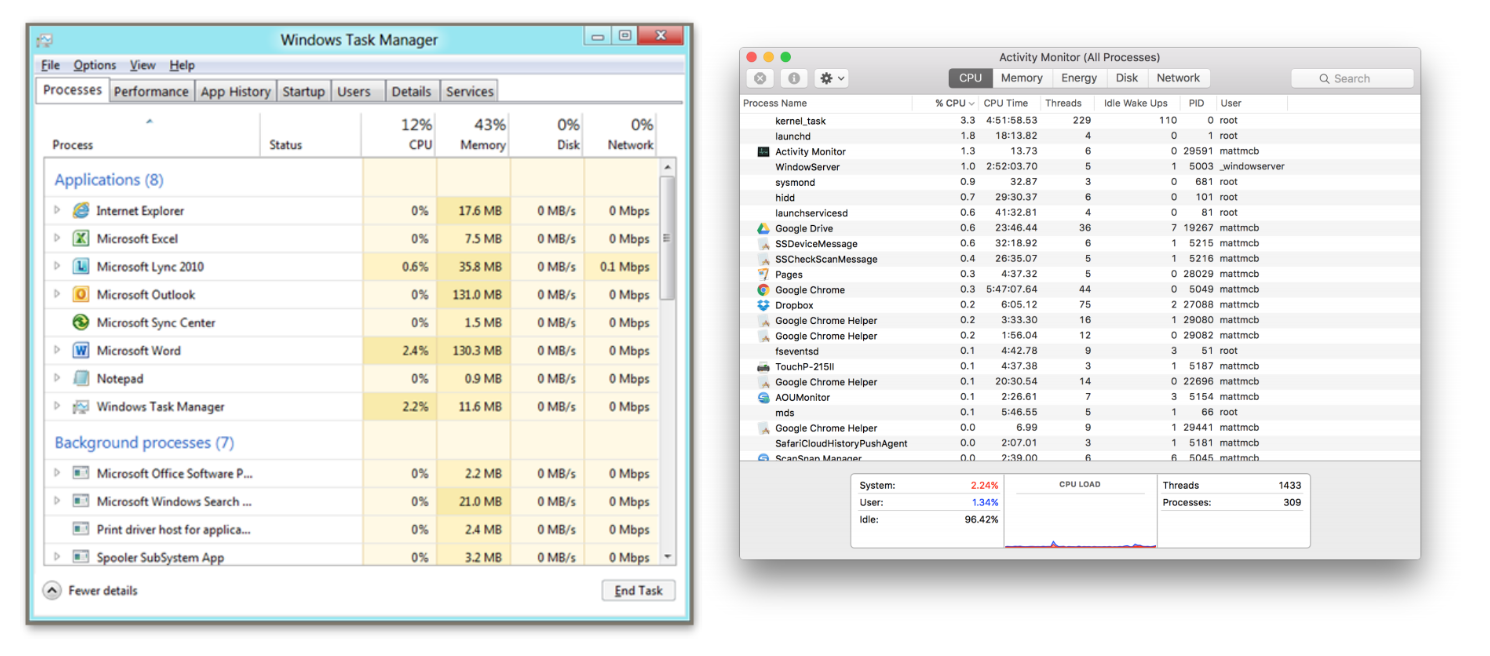 Errors Under the Hood
It can also be helpful to see if there are any errors under-the-hood. In most browsers, press F12 (Windows) or ⌘ Cmd + Option + i (Mac) to launch Developer Tools. When the Developer Tools launches click Console and if any errors are present, they can be copied using the Screenshot instructions above and sent to Mend at BestService@MendFamily.com.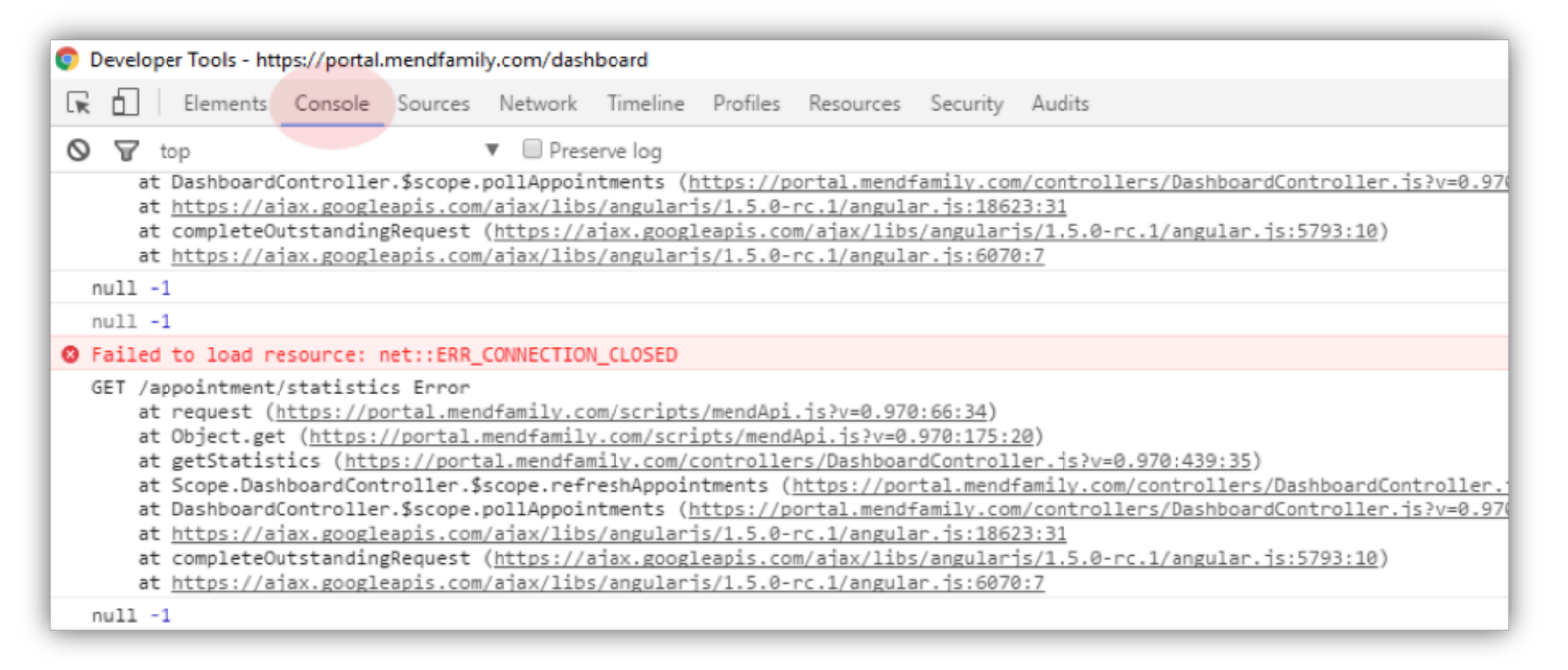 Patient and Staff Login
Mend is always happy to assist with any login issues. In most cases, the Forgot Password link works perfectly for anyone having trouble logging in. The system will send them a link that allows them to input a new password.

If a patient or staff has tried to login too many times, the system will lock them out. To Unlock, simply use the Forgot Password process to unlock the account and create a new password.
It's also a good idea to make sure that the correct email address is on file. Simply search and Edit a Patient or Staff from the Mend menu to confirm that the correct email address is in the system.
For more information about accounts and logging in, please review this article.
Video Sessions
Our software works very hard to test everyone's video connection, even during a video session, to monitor everyone's Internet quality. We make every effort to communicate the health of everyone's Internet connectivity during a video call.
With multiple people connected in a single video conference, whose computer is the culprit if there is an issue? As a general rule, if they see you and you don't see them... it's them. If you can see them and they can't see you... it's you. A refresh of the browser usually corrects the problem.
Hearing an Echo
An echo can occur when your microphone is picking up sound from your speakers. Whether you're using a computer or mobile device, the first and easiest thing to try is to turn down the volume or connect headphones to your device.
Echo can also occur when one of the users has a poor or fluctuating Internet connection. Try the Connection Test Tips to improve your connection, and if you're on a computer, perform a hard refresh on the webpage: Ctrl + F5 (Windows) or ⌘ Cmd + ⇧ Shift + R (Mac).
If a volume adjustment and refresh do not help, check out the suggestions below:
Mobile devices have noise cancellation built in. If the option is available connect via a smartphone, tablet, or iPad that could be a great option to correct the echo.
Make sure the microphone sensitivity is not set too high. The reason an echo can occur more frequently on a desktop computer is because the speaker(s) and microphone are too close together and there may be no integrated noise cancellation.
Providers or staff with consistent echo issues caused by hardware may consider purchasing a camera with a built in microphone and integrated noise cancellation.
Internet Goes Down
We've all experienced Internet outages from time-to-time. Cellular is not preferred for video sessions, but can work and is an adequate backup if it is the only Internet available. Why not use cellular for video? Cellular service is still not 100% for regular phone calls. Dropped phone calls still occur on a regular basis. If it's unreliable for phone, it may not work well with video. Large buildings and other structures can interfere and just because you have bars, doesn't mean you have data available for video. Wired or a strong Wi-Fi signal is always preferred.
Internet speed is good up and down, hardware tests out, but connection problems remain...
What next?
Mend Video Visits rely on bandwidth, latency, and packet loss. Sometimes resistant connection issues can occur because bandwidth and resources are available, but the connection just isn't clean - latency and/or packet loss are most likely the issue. Here are possible steps to rectify this situation:
C

lose any additional windows, tabs, or applications you are not using to maximize CPU and bandwidth utilization.

Pay special attention to other video chat applications (FaceTime, Skype, Google Hangouts, Zoom, Facebook Messenger), streaming platforms (Netflix, Hulu, Spotify, Pandora), and cloud storage applications (Google Drive, iCloud, Dropbox).

Reset the cable modem, router, and other network equipment. These devices run for long periods of time so they could have memory leaks or a random particle from the universe can alter a 1 into a 0 and disrupt the software that runs inside of the devices. Restart everything and try again. This will work the majority of the time.

Try a hard wired connection. With so many WiFi networks and so many wireless devices, you could be on a very crowded WiFi channel.
The remaining steps may require an IT person or the Internet Service Provider (ISP) to investigate:
The cable modem or router might need new firmware. There may have been a bug in the software within that device causing issues.

Some bigger networks may have to white list Mend's video technology within the firewall: https://portal.mendfamily.com, https://api.mendfamily.com, https://hlg.tokbox.com, https://chatlio.com.

With cable or fiber connections, there could be a disturbance in the signal. The signal could be weak, noisy, or have voltage/grounding issues. The ISP would need to come out and check. Perhaps a part went bad somewhere or if you only have Internet and no TV, empty outlets in a house can create noise on that line. Contact the Internet provider so they can investigate and resolve the issue.
Almost all of us now have access to WiFi and cellular Internet, so cellular can be a backup if necessary.
As always, Mend support is always ready and willing to help troubleshoot any issues you encounter. Please click the "Need Help?" button at the top of any screen in Mend or:
Email us: BestService@mendfamily.com
Call us: 800-490-2788