Some healthcare organizations allow patients to start a messaging conversation with their provider in Mend. Others only allow patients to respond to messages that have been sent to them by a provider or staff member.
This article answers the following questions:
If you do not have any
open conversations
and your Dashboard does not include the "
Start a New Message" button
, you may not send a message to your provider in Mend at this time. Please contact your healthcare organization directly for next steps.
Mend Secure Messaging
Can I start a messaging conversation?
When you log in to https://portal.mendfamily.com with your email address and password, do you see a button that says "Click here to start a new message"?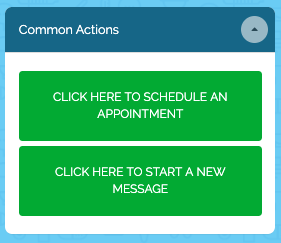 If you do not see this button, your healthcare organization does not allow patients to initiate secure messaging conversations. If you do not have an open conversation with a provider or staff member, you may not send a secure message in Mend at this time. Please contact your healthcare provider's office directly.
If you do see the "Click here to start a new message" button, click it. This will open a process that is identical to the patient self-scheduling process, but you will not need to select a date or time. Depending on your healthcare organization's protocols, you may need to provide a payment method to proceed.
When you press "Book" on the "Confirm Appointment Details" page, you will be brought directly into the Conversation. It is likely you will see a message explaining what to expect, as pictured below.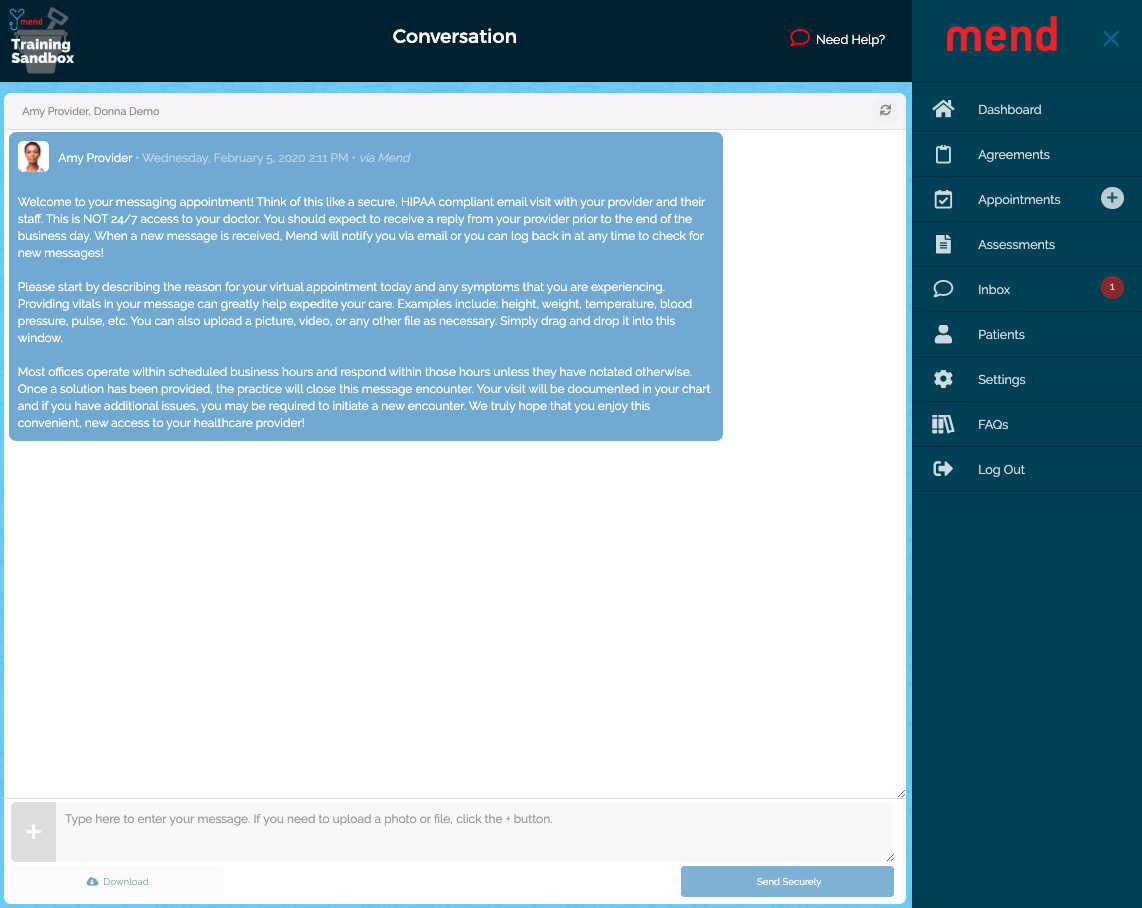 Receiving Messages
If your healthcare organization has sent you a secure message in Mend, either as a new message or a response to a message you have sent, you will be notified by email and SMS text message.
The notification you receive will not contain the actual content from the conversation- you will need to click the link in the email or text message and log in to Mend.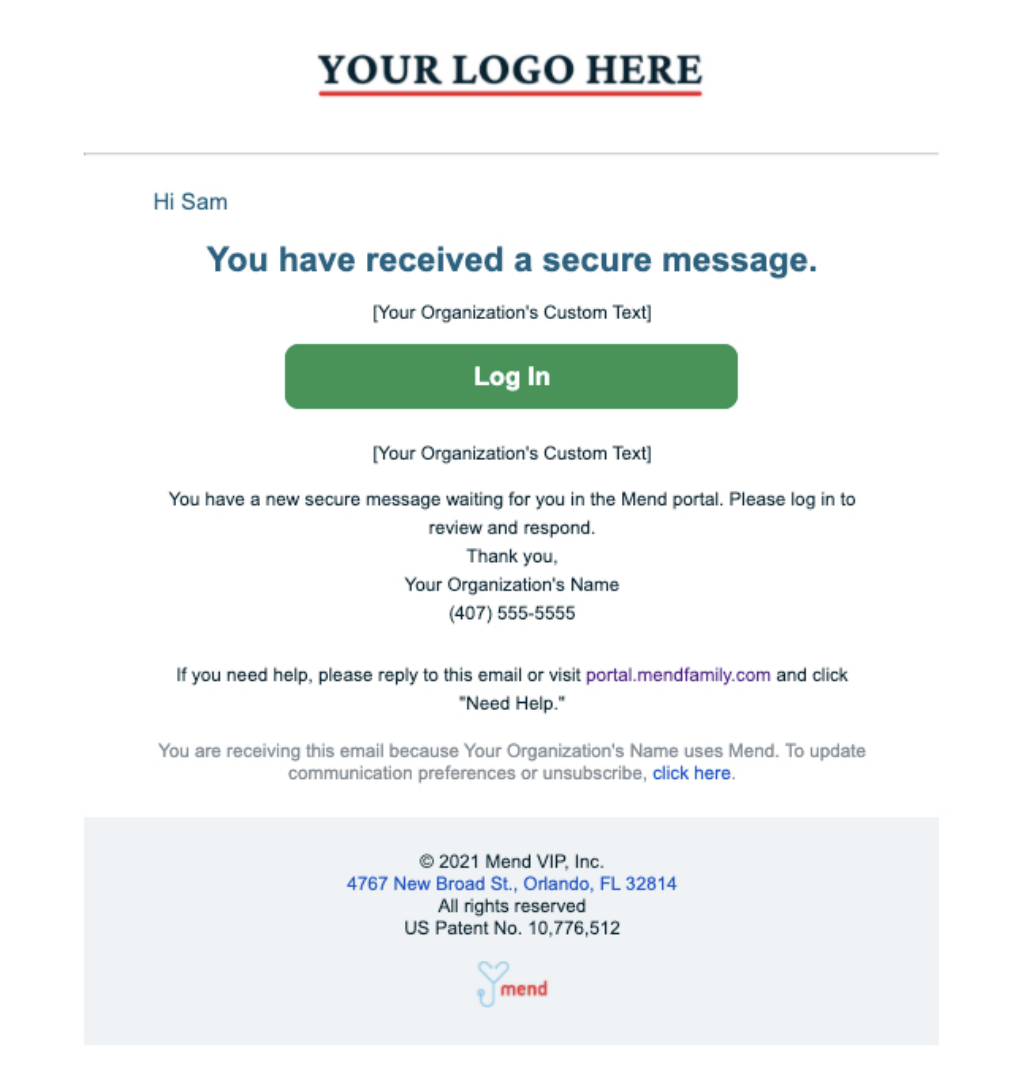 If you are logged in to Mend when you receive a message, you will see an alert icon next to the "Inbox" option in the main menu to the right of the Dashboard.

Click "Inbox" to open the Message Center. This page contains all conversations you have had with your healthcare organization, whether they are open or closed.
If a conversation has unread messages, you'll see an indicator to the left.
Click "Open Conversation" to view and respond.

At the top of the Conversation, you will see the names of participants in that Conversation. Usually this will just be you and your healthcare provider, but sometimes you may see another provider or staff member's name. Multiple patients may not be added to the same conversation.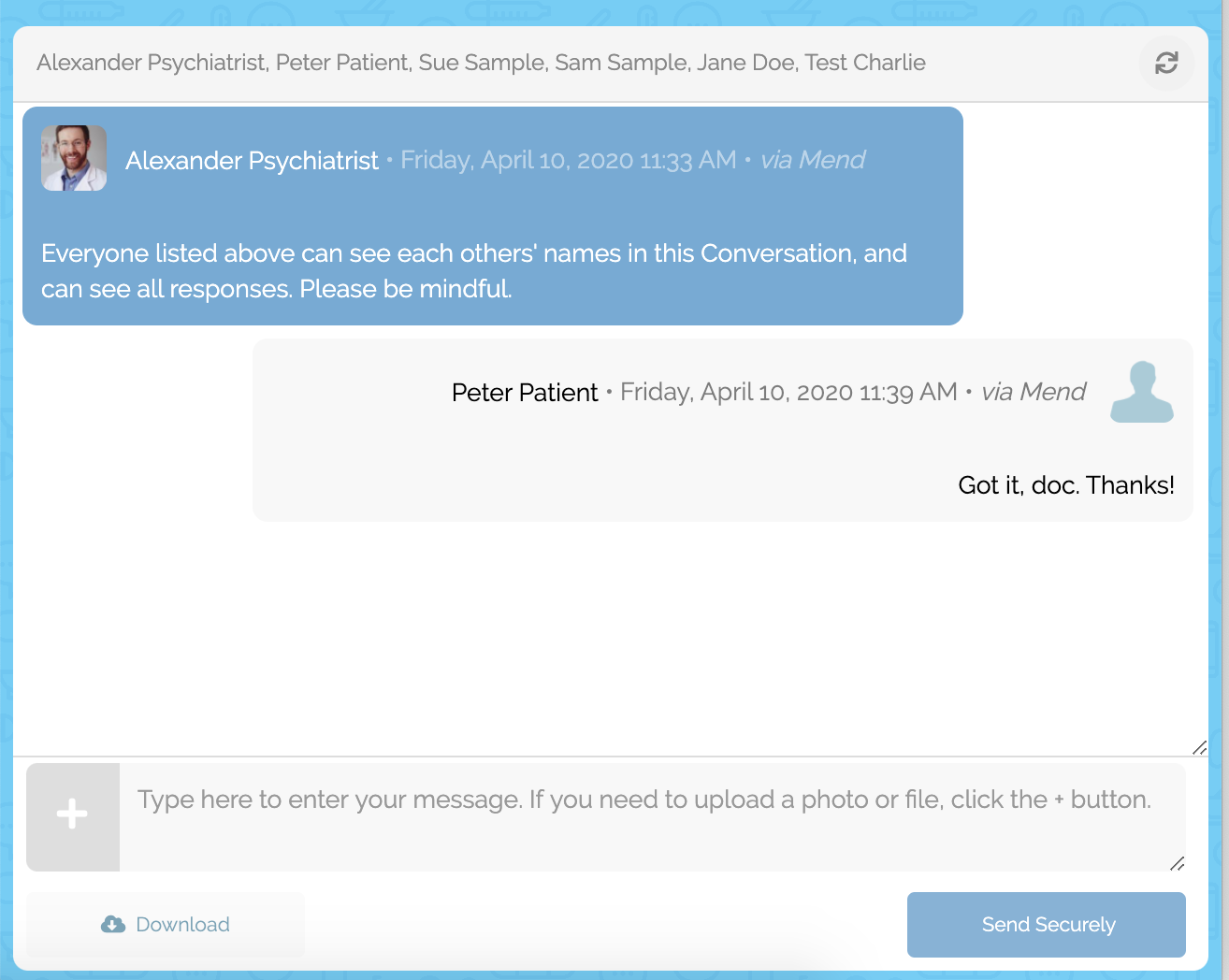 Send a Message in the Conversation
At the bottom of the Conversation page, you'll see a gray box with the prompt text, "Type here to enter your message. If you need to upload a document, click the + button."

Click anywhere on that prompt text and type your message, then press the Enter/Return key on your keyboard or click the "Send Securely" icon to send the message.
You may also upload a document or image file and send it securely in the conversation. To do this, press the plus (+) button to select a file from your device, or simply click and drag a file from your desktop directly onto the page.
Keep in mind that once a message, image, or document has been sent in the conversation, it cannot be recalled. All conversations in Mend are secure and private, but you are responsible for making sure you share only what you mean to share.
Note: The maximum allowable file size for sharing in a Mend secure message is 450 MB.
Example of using the plus (+) option to upload and share a file in a conversation on a Windows computer: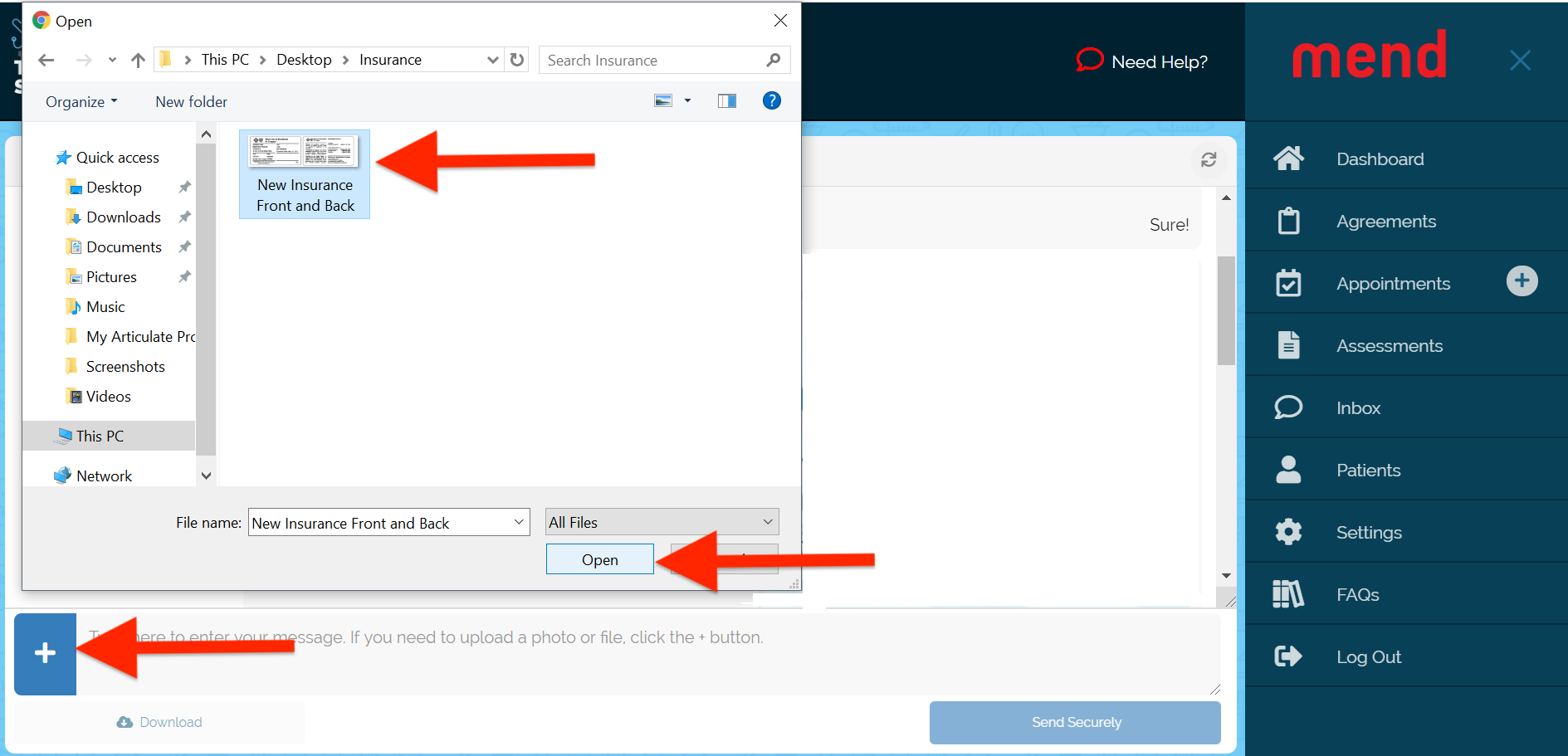 Example of dragging a file directly into the conversation to upload and share on a Mac computer: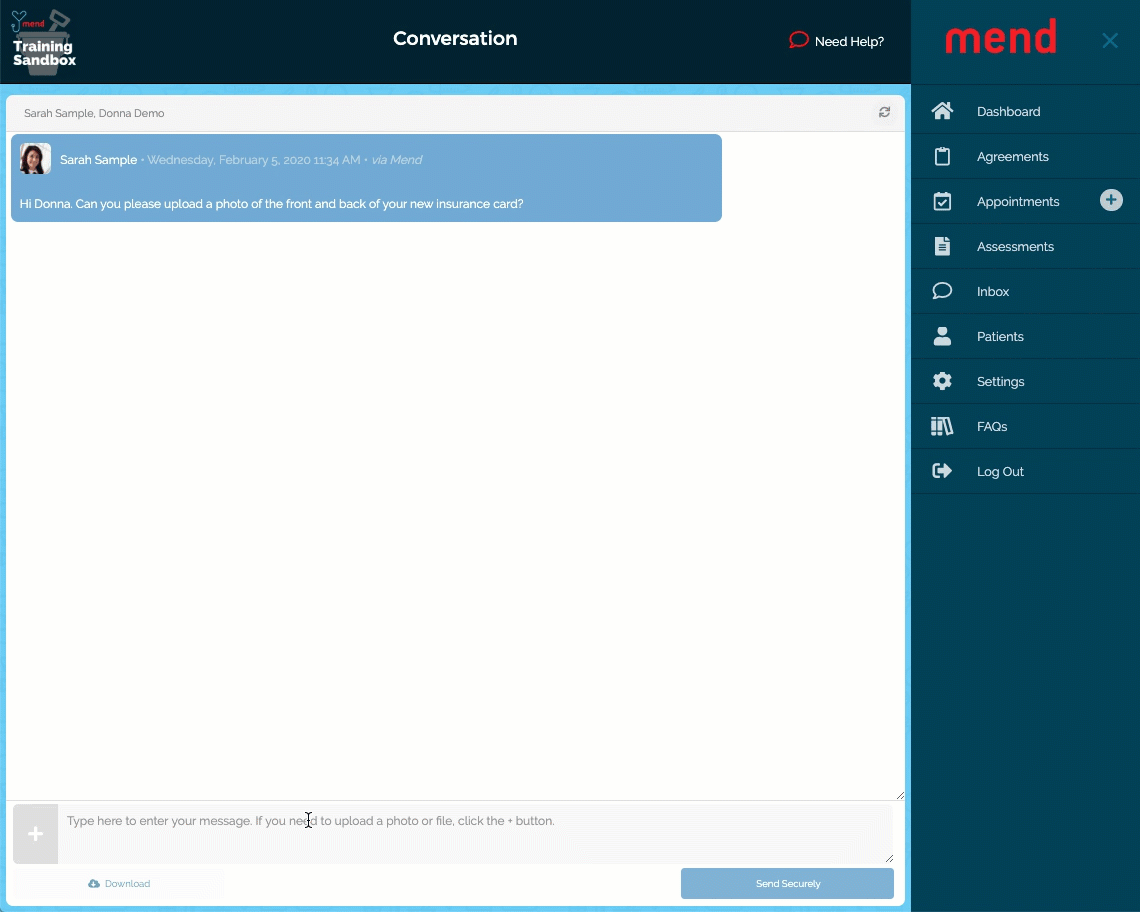 Download Options
If a user in the conversation has uploaded a file, you may download it by clicking the name of the file in the message.
You may also download a full record of the conversation as a pdf file by pressing the "Download" button below the "Type here" box.

Open vs. Closed Conversations
When you open the Inbox and view your Message Center, you may see Open and Closed conversations.

If you see the "Open Conversation" icon, the conversation is active and you can respond at any time by clicking "Open Conversation."
If you see the "Closed" icon, the conversation is inactive and archived. You can view or download all messages in the conversation at any time, but you may not respond. You may click the "Closed" icon to view or download the archived conversation.