This article will answer the following questions:
Mend Intake Forms & Assessments
Why am I being asked to "fill out information"?
If you have received an email and/or text message that says, "Please fill out information for your healthcare provider" this means your healthcare provider is using Mend for paperless intake forms, surveys, or clinical questionnaires.
What is my provider requesting?
The email or text message you received does not specify what information your provider is requesting because emails and text are not a secure method of communication. It could be routine paperwork, or perhaps it's sensitive information you wouldn't want spelled out in a text message.
The most common types of paperwork in Mend are new patient intake forms. This would be the same contact information, medical history, and other items you'd complete with a clipboard, paper, and pen in the waiting room, except you can do it from your own device. You may also be asked to sign consents, complete a clinical screening assessment, respond to a survey, provide insurance or payment information, or download information provided by your doctor.
What do I need to complete a form in Mend?
All you need to complete a form in Mend is a compatible device connected to the internet. This could be a desktop or laptop computer, or it could be your mobile phone or tablet. Whatever is most convenient for you!
Is my information secure?
Yes, absolutely. Mend is fully HIPAA-compliant and secure, and we comply with multiple security standards in order to ensure that your information is always protected.
How do I complete a form in Mend?
From the email you've received, click the "Get Started" button, or from the text message, tap the link. This will open a page in your web browser that asks to verify your date of birth. Type in your birthdate and press "Go."
You may be prompted to accept legal consents before you are directed to the form itself.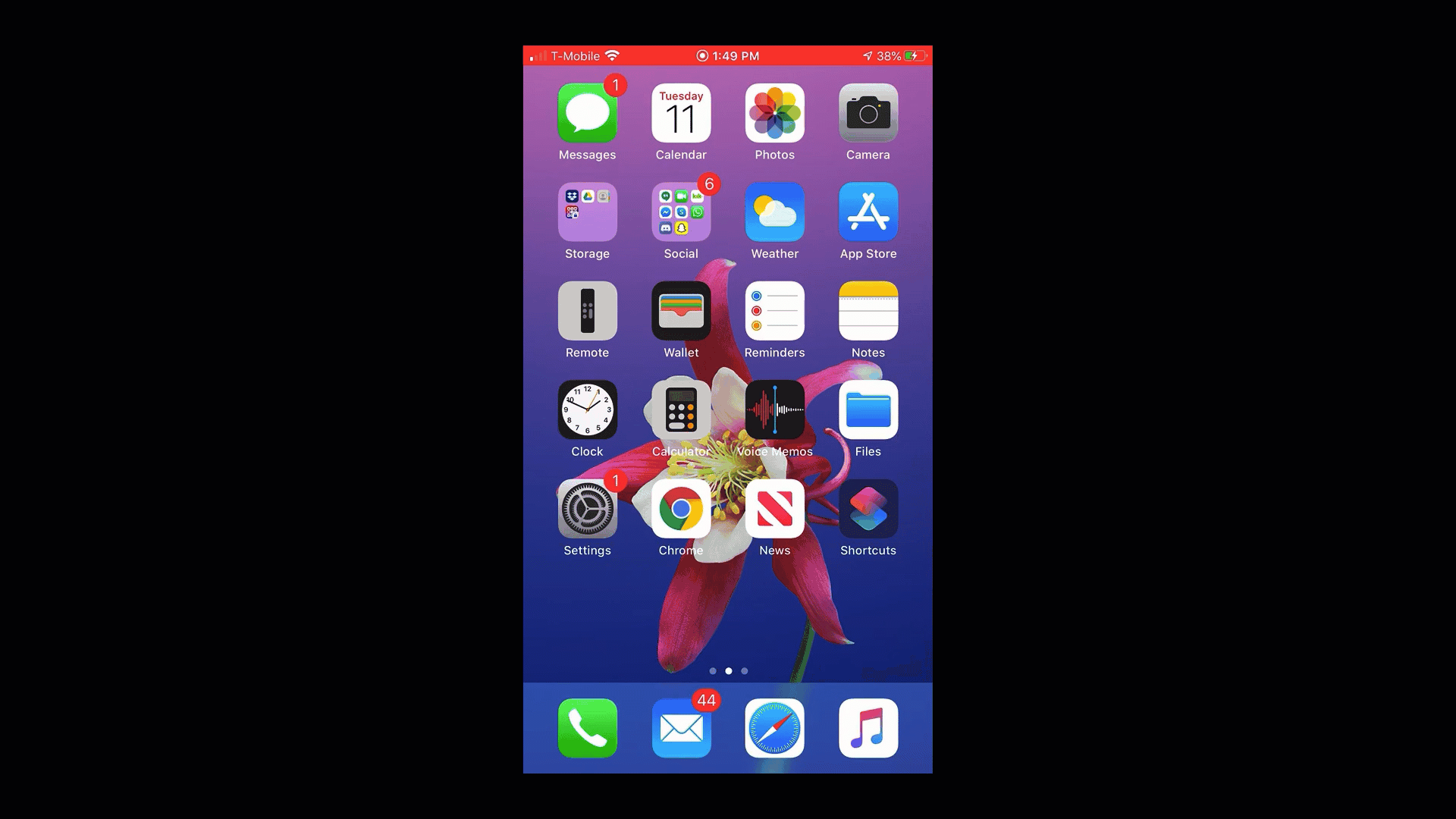 In most cases, that's it! Certain types of forms do require an additional level of security however, so you may be prompted to log in with an email address and password. This might be the case if your provider has sent you a customized treatment plan or an itemized invoice. If you have never logged in before, you can find information about how to do so in this article.
Here are some quick tips for completing forms in Mend:
If you see a red asterisk next to the question, that means a response is required.

Some responses will hide or show additional questions depending on what your healthcare provider is asking.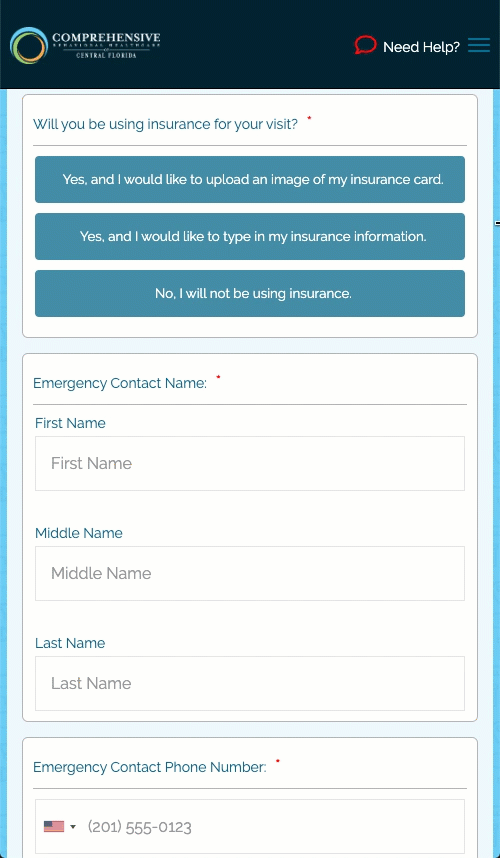 Some forms may ask you to upload an image or file, such as your ID, insurance card, or medical records.

On a computer, you can click the plus sign (+) underneath the question and select a file from your computer, just like attaching a file to an email.
If you are using a mobile device, when you click the plus sign (+) it will ask you whether you'd like to upload a file from your device, or take a picture.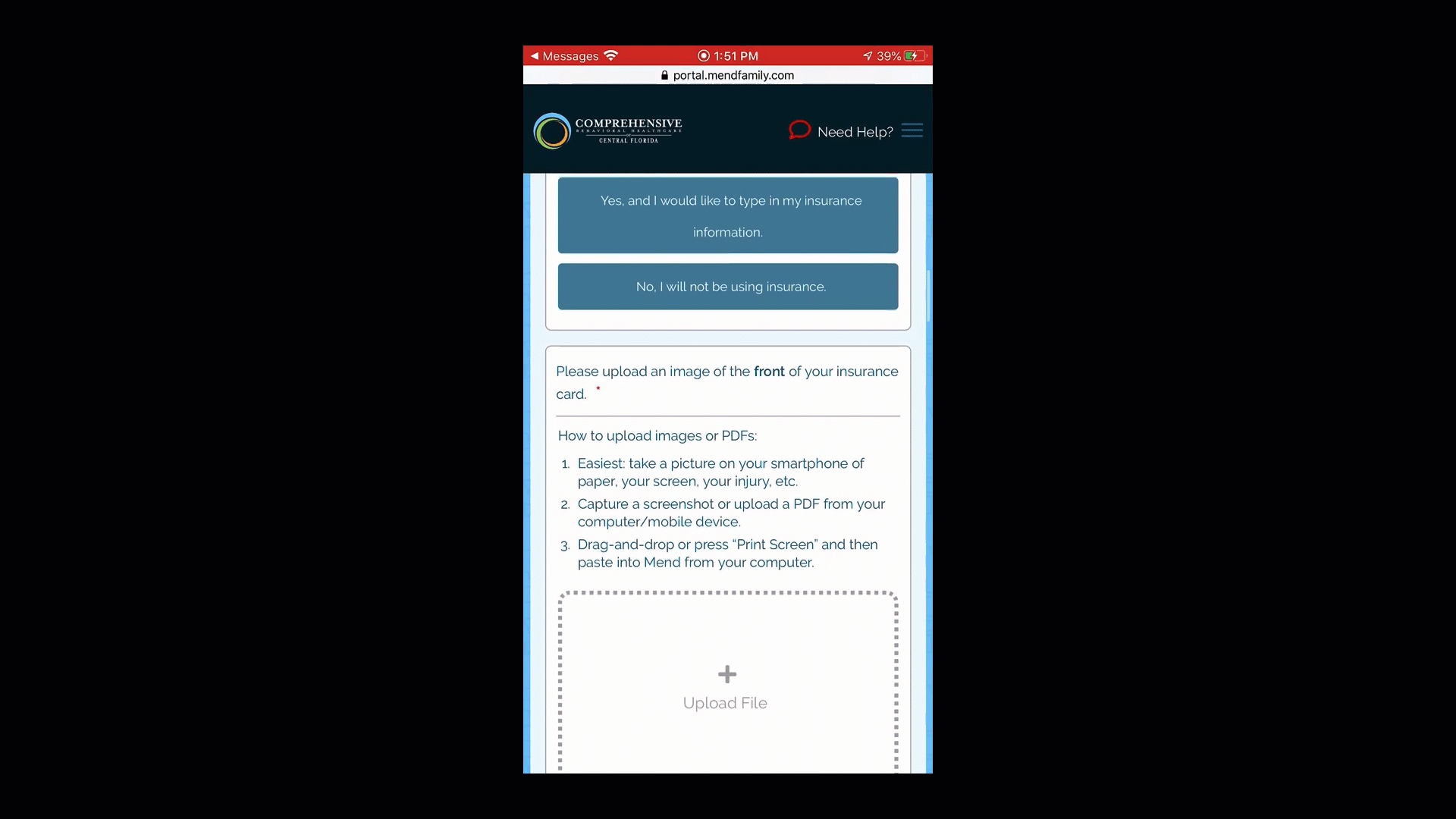 When you are finished, you will need to click a button at the bottom of the form to submit it.

This button may say "Accept and Submit," "Complete," "Next," or another similar label, but it will always appear at the bottom.
If you have not answered all required questions, you will be redirected to complete them before submitting the form.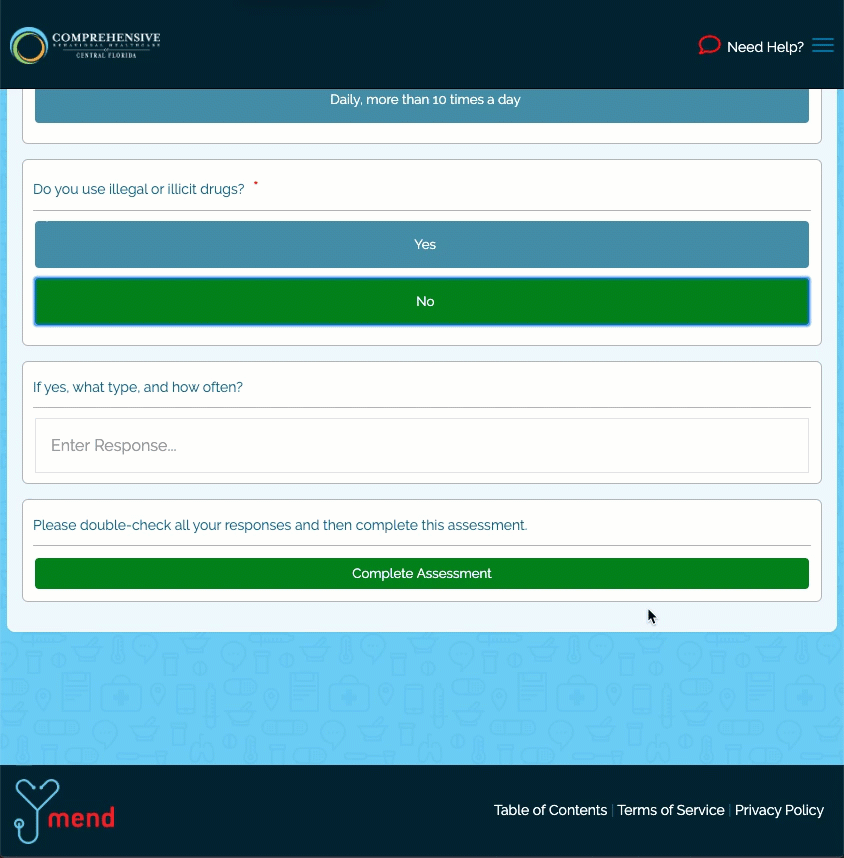 Can I see the forms I have submitted?
Some healthcare organizations allow patients to view and download copies of all forms that have been submitted, but only after they have been reviewed by your provider. Others only allow specific types of forms to be viewed and downloaded by patients, such as consents, and documents outlining policy and procedures.
If you log in to the Mend portal, click "Assessments" in the menu to the right of the Dashboard. If you see any forms under "Completed Assessments," you may click "Actions" and either "View" the form in your browser, or "Export" to download a pdf copy. An animated gif demonstrating how to export and download a copy is below.
If you do not see any forms under "Completed Assessments," please contact your healthcare organization directly to request copies of submitted forms.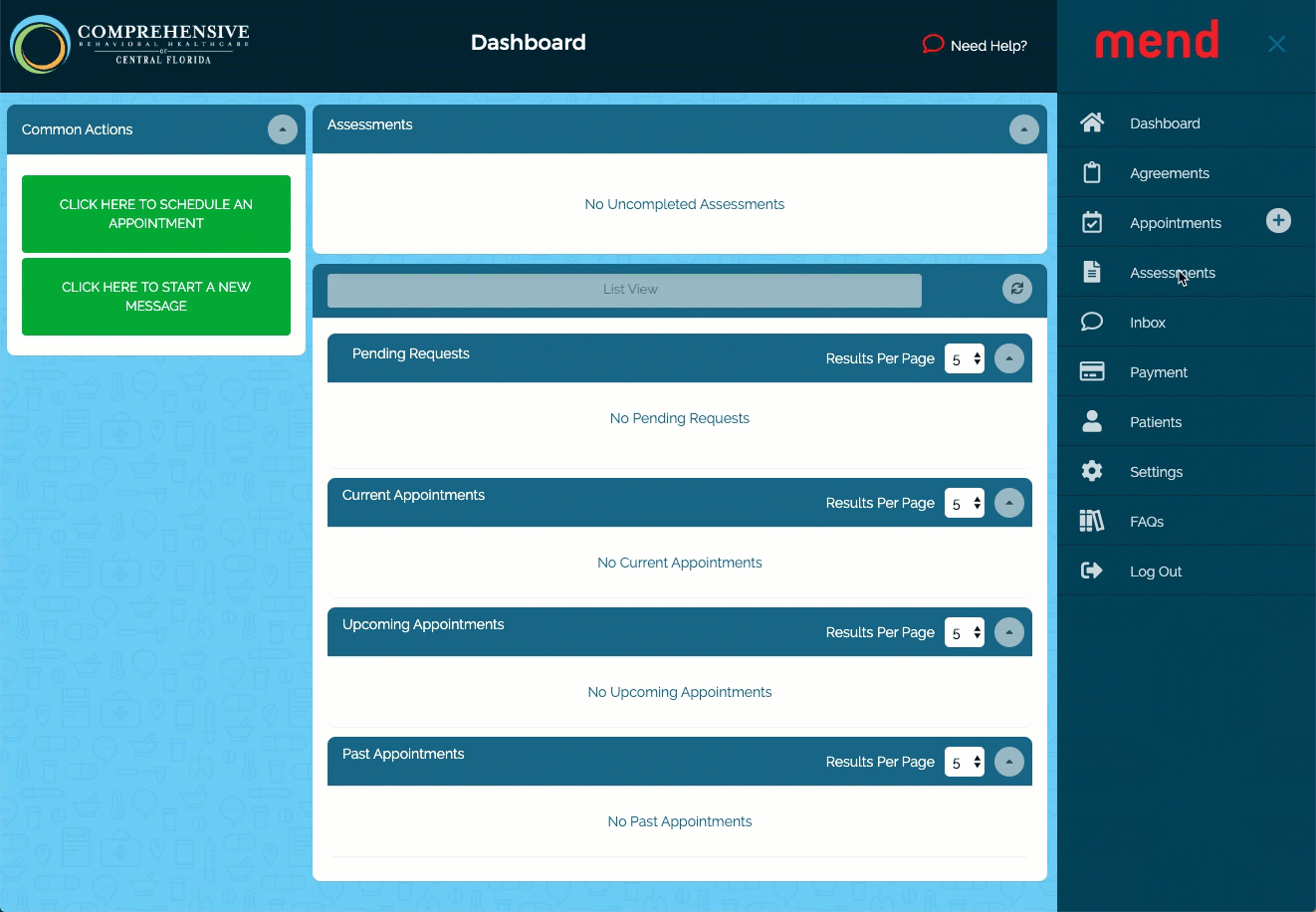 What if I need to update information I've already submitted?
Once a form is submitted, it cannot be edited for any reason. We recommend contacting your healthcare organization directly to ask them how they'd like you to update your information.
What if I'd rather not complete forms online?
If you are visiting your healthcare provider in person, they may have a designated tablet in their office that will allow you to securely complete your forms in Mend.
If you are unwilling to complete forms digitally, or if you are not comfortable providing the information requested, please contact your healthcare provider directly to ask how they'd like you to proceed.